THE BIG STRETCH — ITINERARY

Day 1 — Arrive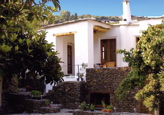 Your coaches will be at the airport of Malaga to welcome you. You drive a couple of hours to our wonderful retreat house which stands on the edge of a white village, near almond groves, springs and mountains. All you hear is birds. Before dinner we run through plans for the week. You'll have a single room either in the house or in the Casa Rural 3 minutes up the lane.

Day 2 — Circular valley walk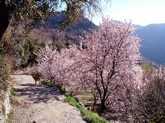 After breakfast and your first creative exploration, we head out into our local woods, along a valley of goats, then up through pastures until we have wide open views. We use the quiet expanses to help you tune out the demands of the outside world, and hear yourself think.


Day 3 — Portugos/Trevelez Valley

We drive up into the mountains above Portugos adn walk along the spectabular Trevelez river valley with its huge skies and ancient landscapes. Today you look into your wishes and ambitions, exploring your sense of purpose in the wider world. You pinpoint areas where you're most motivated to achieve something new. We eat out on the terraces, with fires burning.


Day 4 — Free walking / scheduled coaching / massage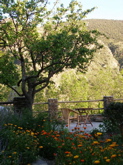 Around the house there are terraced plantations and mediaeval bridges. You are free to explore and muse in your own time, whilst each person has scheduled one to one coaching and a deep, restorative massage in your room. Taxis take you out for a gastronomic dinner in a nearby village.

Day 5 —Land Art, Mental Photographs and Macro vision
Today we embark on a series of practices which heighten your experience of nature, evolution and ecology as a source of inspiration. We teach you playful, lateral thinking skills and create a flood of original, but workable solutions to each person's question.

Day 6 — High peaks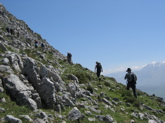 We drive as high as we can get, above Capileira, and gradually scale the high rocky land for stunning views of the Sierra Nevada, the coastal hills and on clear days, the mountains of the Moroccan Rif. In the session, you'll be equally action-oriented, preparing your plan of what you'll do, by when, at home.

Day 7 — Circular mountain/valley walk
Today we walk down to the river near the house, and over the old roman bridge then follow the ancient moorish mule paths around the valley. You build up your powers of sticking to committments. Celebrate and relax!