HOW THE JOURNEYS WORK
BIG NATURE AS THINKING SPACE
Anyone who goes skiing or walking knows how outdoor activities can clear an overstretched mind. There's a reason for that: while you're happily concentrating on being vigorous, the brain slows to alpha state where your subconscious filters disparate thoughts and resolves the unresolved.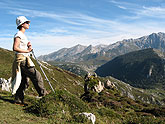 This is a mental state where you're more likely to get to the heart of things. After concentrated questioning, alpha is the state of mind where mental incubation occurs. New ideas synthesise, insights pop up, 'right' concepts tend to resonate and grow. You're likely to break through old thought patterns that no longer serve you. Many people regain connection to their intuition, their spirit, and to their place in the world.
Immersion in nature, meanwhile, provides moments of creative stimulation. We teach you to draw on the natural system as a source of analogies and ideas. Watching a condor soaring might suggest a bird's eye perspective on your question, an effortless gliding approach, or a fast precision plunge.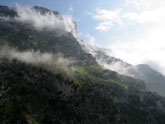 In case you think this sounds hippy dippy, rest assured, it's not. Developed by a psychologist and strategist, Stretch thinking evolved from a thriving innovation practice in the business world. Our coaches succeeded in the corporate environment before growing interested in individual growth and change. We may be high-spirited and informal, but that doesn't stop us facilitating creativity and leadership in commercial and non-profit organisations worldwide, where delivery of results fast is a part of the brief. The press have roadtested us very thoroughly too.
The Big Stretch is neither a therapy session nor a belief system. Our method of combining mental stimulation with quiet time in nature simply helps you hear yourself think, bring laser-like focus on big questions, and make sound choices — fast.
"Nature will bear the closest inspection. She invites us to lay our eye level with her smallest leaf, and take an insect view of its plain." — Henry David Thoreau

HOW THE SPANISH HOLIDAY WORKS
A simple combination works its magic - absolute comfort by night, active stimulation by day.
Why the Alpujarras? In this craggy area on the southern slopes of the Sierra Nevada, mule paths cross wild-flower meadows and Moorish terraces. These mountains are full of surprises - blossoming orchards and rocky outcrops, old chestnut forests and clear streams.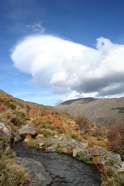 Although close to world-famous Granada, the white villages we encounter are ancient, quirky and little affected by tourism.
In one day's walk you can drop down from crocus-covered meadows, across a lush valley and up to high dry perspectives again. Yet the Alpujarras are a convenient drive from the cheap-flight airport at Malaga.
How comfortable? Very. Our retreat house is high in the mountains on the edge of a tiny white village. Lovingly restored by its English owner Anne, it's whitewashed stone, a simple aesthetic yet extremely comfortable. Everyone has private rooms, ensuite or sharing a bathroom with one other. We have four garden terraces, and unbroken mountain views.
Our cooks love the local ingredients – fresh figs, almonds, tangy cheeses. Even concocting our picnics they treat us really well. One night we go out to eat at a local Michelin starred restaurant- it's all included.
Tatler Magazine: The Top Retreats which Really Work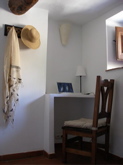 What activities? Days are full with plenty of time outdoors. After mornings of creative thinking, we walk gently fromlunchtime to early evening. We visit rivers and high peaks. One day we do outdoor activities which heighten your connection with nature and the subconscious. Anotherday you have a massage and time in the village alone.
There's no time pressure and no competitiveness about our activities. This holiday is for people who enjoy walking and can imagine the buzz of a week's physical stretch — not sporting heroes. Basic fitness is all you need.
GROUP AND INDIVIDUAL ATTENTION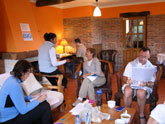 On your Stretch holiday, thinking sessions are kept short and energetic. You concentrate on your own situation, in parallel with others working on theirs. At relevant moments, you benefit from the vision and experience of others. It's a safe environment where strict confidentiality is demanded and given.
You will have scheduled one-to-one coaching. You also have unlimited access to two coaches while out on the trail.
The Big Stretch attracts spirited, intelligent characters from diverse backgrounds, with men and women in roughly equal number. Our groups include creative people, professionals, mothers re-entering work, individuals planning retirement, business owners, social entrepreneurs, film-makers... it is always a rich mix.
Our maximum group size is ten people. Friends who come together are treated as individuals. We generally suggest couples travel on consecutive weeks.
SLIDESHOW — View a slideshow of Stretches in our previous venue in the Picos , Northern Spain.

THE BIG LIFE STRETCH ITINERARY — View an itinerary here.
"My biggest paradigm shifts occurred outside the thinking sessions, perhaps because I live so much inside my head: conquering steep mountains I learned mind-blowing things about confidence, but highlights remain the epiphanies in my bath each night, and dining in a stone-walled farm surrounded by dusty bottles of Rioja."
— Creative Director, retail company, age 35
ME OR MY ORGANIZATION?
The Big Stretch holiday in Spain is for individuals to think creatively for themselves. If it's your company that needs a creative breakthrough, then Stretch thinking takes a different form