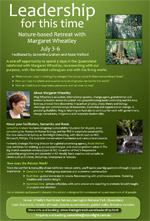 LEADERSHIP FOR THIS TIME:
NATURE-BASED RETREAT WITH MARGARET WHEATLEY
Facilitated by Samantha Graham and Rosie Walford
July 3-6 at O'Reilly's Rainforest Retreat
A one-off opportunity to spend 3 days in the Queensland rainforest with Margaret Wheatley, reconnecting with our purpose, with like-minded colleagues and with the living world.
Reserve your place now by downloading the booking form and email it back to Sam at: samantha@stormlight.com.au


About Margaret Wheatley
Meg Wheatley is an author, international speaker, change agent, grandmother and mentor to leaders across the planet. Her groundbreaking book Leadership and the New Science, showed how discoveries in quantum physics, chaos theory and biology challenge our understandings of innovation, leadership and organizational change. A practicing Buddhist, Meg is returning to Australia to continue her work with government, change consultants, indigenous and corporate leaders alike.
Meg is hard to describe in one small paragraph! Read her extended bio here.

Who is the Retreat For?
We expect a spirited mixed group of business leaders, community and non-profit leaders, organisational development consultants, campaigners and coaches.
You are concerned by the trajectory humanity is on and want to make a difference.
You may be finding your path of influence or be a seasoned change agent who needs fresh focus in order to persevere.
You know the power of nature as a place to reground, rejuvenate and gain clarity.
Outcomes
By the end of the retreat you will have:
Clarity on your values and how to hold true to them wherever you work, wherever you are.
A focused understanding of your purpose - what difference you are called to make and for whom.
An experiential understanding of the dynamics of living systems, and how we can use these to accomplish our work.
Enhanced ability to articulate your intentions with an inner authority, so you can be a powerful advocate and leader.
A new network of like-minded colleagues/friends who are making/being change in the world.
A sense of peace; we anticipate you will leave feeling refreshed, recharged and reconnected to all the things that matter.

About your facilitators, Samantha and Rosie
Samantha Graham has been designing Sustainability Education for 18 years, since completing her Masters in Human Ecology and her PhD in corporate sustainability. She now consults in Sydney as Stormlight Consulting, with clients such as ANZ, Microsoft, Phillips, The Australian Conservation Foundation and various local councils.

Formerly Strategic Planning Director for a global advertising agency, Rosie Walford now combines her training as an eco-psychologist and creative problem-solver in The Big Stretch mountain retreats (Spain & NZ). Co-author of PwC's Responsible Leadership programme and columnist in NZ Herald, Rosie coaches and consults to clients such as Unilever, Bodyshop, Greenpeace & Telecom.


How does the Retreat Work?
From the comfort & tranquility of our rainforest retreat centre, you'll tackle your big questions through 3 types of experience:
Campfire time - whole group exercises and uncommon conversation
Bush time - guided immersion in nature. Reconnecting with pristine ecosystems. Fostering intuition and creative insight
Hammock time - private reflection, with some one-on-one coaching to promote breakthroughs in purpose and direction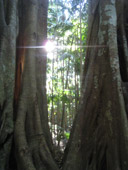 Accommodation
O'Reilly's Rainforest Retreat is a beautiful, long-established resort based in the Lamington National Park, two hours drive from Brisbane. The accommodation is twin share (single rooms are available for an additional $95/night) in cosy "Mountain View" cabins (some of which have mountain views, some of which have garden views!). All are surrounded by lush tropical rainforest, beautiful walks, and a deep tranquillity that is only found in ancient living ecosystems.
Booking and Costs
The cost of $2350 (Australian dollars) covers transfers to and from Brisbane airports (domestic and international), shared rooms, delicious food, guided nature walks and all workshop content. Air travel to and from Brisbane is not included, nor is alcohol, which can be bought at O'Reillys at your own expense.
The workshop is designed for a minimum of 14 people and a maximum of 18. Only a few places remain so please book your place ASAP.
Reserve your place now by downloading the booking form and email it to Sam at: samantha@stormlight.com.au