CREATIVITY @ YOUR ORGANISATION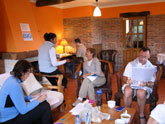 At Big Stretch we'll boost the powers of your organisation through leadership programmes, creativity training and coaching. We'll also facilitate strategic breakthroughs, branding shifts and help you to solve problems with creative ideas.
Whether working with leaders at Price Waterhouse Coopers or campaigners at Oxfam, we apply the principles of adult action learning. We dig into current business issues and tackle them at an emotional as well as an intellectual level. As personal, interpersonal and systemic blocks dissolve, you see ideas starting to bubble up from all directions. Our focus on purpose rather than ego is provocative, but seems to reach the source of sustained energy and comittment. We call it values-based change.
Some Stretch interventions take place in our mountain venues where time in nature triggers insight and transformative leaps in the group. Most programmes are arranged closer to home. Rosie Walford, founder of Big Stretch, may also be available to contribute to your in-house leadership development, social responsibility and creative development programmes.
"I have known Rosie and observed her work for more than 10 years. Her skills in creative problem solving and leadership development are truly impressive. Rosie is a highly engaging coach and facilitator who can lift the creative capacity of groups and individuals across all sectors. She is someone who leads the way, bringing original and relevant material and processes to groups engaged with change and transformation. Rosie's way of questioning purpose, aspiration, corporate responsibility and strategic awareness is ground breaking and highly relevant for the complex challenges facing organisations and communities. At the NZ Leadership Institute we have learned from Rosie and continue to use some of her practical facilitation techniques in a number of our programmes."Loretta Brown, Programme Director, Auckland University Business School
Idea generation workshops and facilitator training
When market conditions are shifting before your eyes, you need to innovate to survive. You cannot solve problems with the same thinking that you've used before. Instead, your people use their expertise differently - reframing pressing issues and generating lateral ideas in areas that offer great opportunities.We've worked this way with Unilever, Safeway, Body Shop, Great Western Trains, World Development Movement and many more - usually in locations close to home.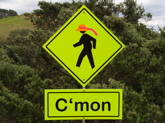 You interrogate challenges with 'wide eyes' - taking a global perspective and the participants' values into account. We introduce The Natural Step framework if you want to factor upcoming sustainability into your future. We get people co-creating in a dynamic where there's clear communication and cross-discipline flow. It feels energetic and unpredictable, yet is disciplined and practical: sessions produce outputs in the form you can immediately go away and use.

We also offer training in the art of facilitating idea generation. Training clients include the BBC, Abbot Mead Vickers BBDO, Friends of the Earth, Research International, Random House Publishing, Whitworth Art Gallery.
"You can suddenly turn problems around into something positive, and then generate ideas which zig when others zag." — SH, Director, Weapon7 Ltd.
The Big Corporate Stretch
When boards and senior teams face big challenges, they take a bespoke Big Stretch in the mountains. Individuals may first walk for a day with our coaches to become clear of their intent and challenges before the group comes together. In a context designed for honesty and innovation, communication and energy rise. Analysis merges with imagination. The result is concrete new thinking, a strong sense of shared purpose and (perhaps most important), renewed personal and professional momentum for the road ahead.
The Big Stretch invites your organisation to step back from immediate issues and make sense of emergent trends; no longer relying on the past as a predictor of the future, you take in the long view and upcoming sustainability forces as a context for long-term success. The combination of intensive facilitation and mountain walking will lift the very best thinkers in your organisation to a level where they are aligned, responsive and visionary, planning your next phase from a state of expanded perspective.


Being in a leadership team on such a programme is rewarding; members become more of themselves whilst in the group, rather than less. Participants say that it is a profound leadership learning process for all who participate, as well as an efficient way to plan.
"Rosie was great at understanding our big picture, helping us get perspective and seeing creative possibilities. It gave us space to breathe, think and just be. She drew our attention to potentially counterproductive behaviour based on limited assumptions and assertions. Now we have a clear roadmap for the distant future, and partners who are clearly motivated and committed to a common direction.." GK, Genesis consulting group
Leadership Coaching and Mentoring
Rosie offers coaching for leaders. She helps clients act, everyday, from their wisdom and solid sense of purpose. Where there's complexity or a draining relationship, it's about creating win-win solutions and authentic communication. Clients find themselves revolutionising stagnant corners of their performance, managing others effectively and problem-solving continually, building their personal confidence and long term results.
Leadership coachees include Fellows of the Clore Leadership programmes, team leaders, owner managers, CEO's , managers in New Zealand's largest companies and in NGO's. We work with clients worldwide with a mix of face to face sessions and phone.
"Rosie, you are asking me really meaningful questions and giving me a much needed forum to think 'bigger'. You have already given me access to many new ideas and places, and I'm seeing interesting results.You have an unusual and exciting mind, like walking into the British Museum library with all the knowledge and wonder and sense of curiosity that drove those seminal minds to understand more about the world." LH, editor,.

Leadership Retreat with Meg Wheatley
In July 2010, The Big Stretch ran its first Sustainable Leadership retreat programme with Meg Wheatley and Stormlight consulting. This series will continue.
The initial Queensland retreat was for leaders who are standing up to do what they believe is right and sustainable: leaders interested to see how they can use their ability, reputation and understanding for the greater good. It invited them to examine their impact in the world and their contribution to - or through - their work.


Creative Brand Stretch


Rosie specialises in strategic projects for Brands. Happy clients include GlaxoSmithKline, Covent Garden Soup, Homebase, Mercedes, World Development Movement, Abercrombie & Kent.
Your team to explores diverse aspects of human motivation, competitor performance, category and global trends - then make a creative leap to pinpoint the emotive 'essence' - the brand's most powerful positioning for the future. This you express in condensed, communicable format for immediate use as the driving and unifying force for strategy and communications and wider management decisions.


Who are the consultants for Creativity@your Organisation?

Rosie Walford: is a psychologist by training, with an MA in Experimental Psychology from Oxford University. She specialised in brand planning at J Walter Thompson and Leo Burnett, rising to board level. She trained in creative problem-solving and creative leadership at the Creative Education Foundation, State University of New York and in group facilitation directly with one of the founding fathers of the field. She co-founded the agency's specialist creative unit, Innovations. She leads consultancy projects in commercial and non-profit sectors, coaches senior executives and teaches internationally. In parallel, she's a newspaper columnist and photojournalist, chiefly for Daily Telegraph and NZ Herald, producing features on biodiversity, development education and sustainability. She published "Shelf Life - a Celebration of the World's Quirkiest Brands".

Darren Rudkin: is the head of MindAtWork. He took his experiences of marketing at Unilever to become founding director of What If, the successful innovation consultancy. He's a respected speaker and top level consultant in leadership, organisational change and cultural dynamics. He sits on the board of More to Life, and is co-author of "Sticky Wisdom - How to Start a Creative Revolution at Work".

Samantha Graham : is the founder of Stormlight Consulting, and has been designing Sustainability Education since completing her Masters in Human Ecology in 1993. She completed a PhD in corporate sustainability while living at Findhorn in Scotland, and now lives in Sydney doing sustainability and cultural transformation work with clients such as ANZ, MIcrosoft, Bovis Lendlease, Phillips, Australian Conservation Association and various local councils. She teaches Influencing for sustainability practicioners.

Lisa Markwick is a leadership and sport Psychologist and innovation facilitator. Her interest is in social innovation and entrepreneurship. In the field of leadership development for over 20 years, Lisa is dedicated to facilitating "conversations that matter" to shift our people, organisations and communities towards agile dynamic mindsets and actions that are "gutsy" and make the differences worth making. As Programme Director at the NZ Leadership Institute: Excelerator (University of Auckland Business School), Lisa focussed attention on developing their Community Leadership Learning initiatives. Lisa's work is significantly shaped by her own mindfulness practice, her passion for endurance sport, and her penchant to ingest wisdom from diverse disciplines and render it practically useful.
David Hansen: leads the Asia-Pacific arm of Nowhere Group. With degrees in psychology, sociology and organisational behaviour, he specialises in co-creation – the art of leading breakthrough- and in creating the conditions where organisations, and the people in them, can truly flourish. Early in his career David was the founding general manager of a worldwide organisation that developed diagnostic and development tools for enhancing leadership and organisational performance. A vigorous sportsman and transformational facilitator, he partners with global businesses, governments and non profits to help their leaders purposefully innovative, perform and shape the future.
Andrew Woodgate: began his career with Friends of the Earth, fell instantly in love with the voluntary sector and realised that the way in which organisations treat their workers has a huge influence on how those people feel and how productive they can be. With a Post-graduate Diploma in Voluntary Sector Management and a Post-graduate Certificate in Spiritual Development and Facilitation, Andrew has provided deep consultancy, organisational development, facilitation and management development with a wide range of voluntary and local government organisations in the UK.

...and others, depending on the needs of the project.


Next Step
Address your mail to Rosie Walford at info@thebigstretch.com

Rosie may be up a mountain or in workshops so please don't be offended if a few days pass before you hear back.